Events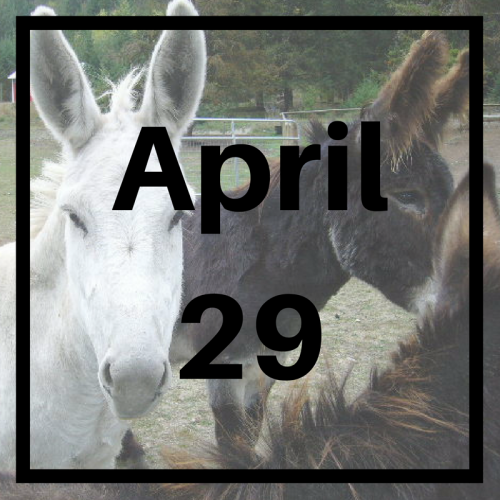 AGM - Annual General Meeting
Sunday, April 29, 11:00 am
Join us to discuss our plans for the Refuge for 2018.  *Please note that the Refuge will be closed to the public until 1:00pm due to the AGM.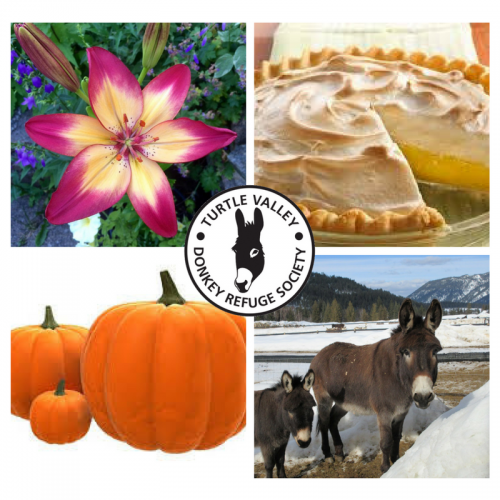 SPRING FLING FUNDRAISER - Plants, Pie, and Pumpkins!
Sunday, May 13th, 2018 10:00 am - 4:00 pm
*** Please note the date has changed to May 13th.  Feel free to bring Mom out to visit the donkeys after you go for brunch!
Our Annual Spring Fundraiser featuring our Beautiful Exotic Asiatic Lillies all potted up and ready for your Garden.  Featuring new varieties of absolutely stunning colours  $15.00 for 3 plants per pot.
Enjoy tea and pie at our concession and this year "Plant a Pumpkin for the Donkeys".
As part of our new initiative to help promote education about sustainable agriculture, we hope you will join us and Plant your own Pumpkin plant in our Donkey Pumpkin Patch.  Just $2.00 per plant.
We will care for your pumpkin plant throughout the growing season.  You visit the Refuge in the Fall and pick 1 pumpkin from your plant.  The balance of the pumpkins are sold as a Fundraiser and any leftovers will be fed to the Donkey and Goats as treats.  We hope you will join us for this fun-filled way to Help the Donkeys and connect with your loved ones.
Free Admission!