Events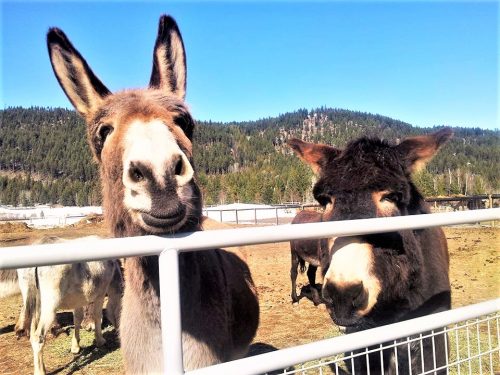 FOREVER FRIENDS FRIDAY
Fridays until June 30, 2019
Forever Friends Cotton & Sampson came to the Refuge 5 years ago.  When they arrived, Cotton couldn't walk due to his hoofs, and Sampson stood protectively over his friend, day and night, guarding his safety.  It took the farrier 3 hours to trim their hoofs, with resting in between.  It took many more months of rehab and care to get Cotton and Sampson healthy.
Today you would never know these two forever friends were abandoned in a field for 2 years before the Refuge was called to step in.  We are honoured to be a forever home to these two forever friends.
Join us in celebration of Cotton & Sampson's forever friendship.
If you have ever wanted to introduce your friend to the Donkeys, this is an amazing opportunity!  For the remaining Fridays in the month of June, we are offering our wonderful donors a chance to bring one free guest with them when they come out.
Offer available until June 30, 2019.
Fridays only, 9am-3:30pm (Refuge closes at 4, last entry 3:30pm)
celebrate on social with #tvdrforeverfriendsfriday
DONKEY REFUGE OPEN TO VISITORS 5 DAYS PER WEEK
May 3 open Friday through Tuesday each week from 9am to 4pm.
We are now open from 9am to 4pm 5 days per week from Friday through Tuesday only. WE ARE CLOSED ON WEDNESDAYS AND THURSDAYS AND ASK FOR YOUR COOPERATION AS THESE TWO DAYS ARE SET ASIDE FOR IMPORTANT ROUTINE ANIMAL HEALTH CARE AND FARRIER SERVICES AS WELL AS GROUNDS CARE.